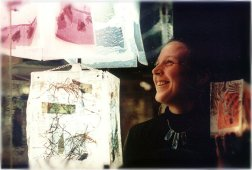 From bags to riches………
Contemporary pieces individually created using recycled plastics and other found elements.
All of the work is made using a technique that I have developed which utilizes plastic carrier bags and their vibrant colours and designs.
My work crosses different boundaries of art, craft and design since the material is so versatile and lends itself to many applications.
Currently my collection of designs includes light pieces, lamps and wall lights; screens and wall hangings; jewellery and buttons.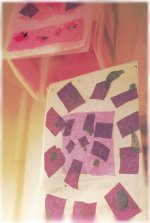 All of the pieces are individual, although the product range will give you guidelines of colours, designs and some idea of what is possible.
Any piece can be tailor made to your own specification – you could even send me your own bags! Commission a screen, wall hanging or a multi-layered chandelier…..
I am continually experimenting with new ideas and one off pieces and therefore would be happy to take on commissions for larger one off pieces,

I need your bags!
I always need colourful and interesting bags, so please recycle your plastic carrier bags; save them up and post them to me at the address below, I will be happy to reimburse the postage fee…
E-mail, phone or write to me with any enquiries, ideas or simply feedback on my work, via e-mail: [email protected] or by writing to…
bags2riches, 20a, Mansfield Road, Eastwood, Nottingham NG16 3AQ