In the interest of safety and the environment, all light pieces are designed for use with Energy Efficient bulbs, therefore maximum wattage is 20w (equvicalent to 100w with a conventional bulb).
All of the light pieces can be made up in the designs described for each section, or individual designs could be negotiated. They are available in a number of colour combinations (see the colour chart), or again made up to your own specific requirements.
The shades are designed to be attached to the light fitting or ceiling with either 4 chains or cables.
Free hanging lanterns – single tier – £50 – (Code HL-)
2 panels (attached using stainless steel dome-headed bolts), hang freely on each side of a square perspex frame. Size of panels: 20cm width, 28cm height




Wall light (WL-)


Structure alone – £40
With fittings – £50
To be designed to customer specifications. Prices for a rectangular light size: 19cm width and depth, 45cm height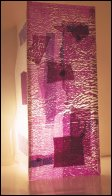 Solid Lanterns – single tier – £40 (SL-)
All 4 panels are stitched together to form a solid lantern; to create rigidity they are attached to perspex squares at the top and bottom of the shade. Size: 18cm sq, 28cm ht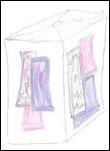 Octagon/ cylinder lamps – £35 / pop jewels £45 (OL-/CL-)
These are free-standing lamps. They stand on four stainless steel legs, with a perspex base inside the shade which mounts the light fitting. The panels are stitched together and attached to perspex cylinders. Size: diameter 14cm, height 28cm