The basic screens are intended to be hung in a chosen space, (top and bottom supports would ensure rigidity); they could decorate a window space, or simply be used as a wall hanging. The panels are made using recycled plastic bags and found elements, they are then either mounted on perspex screens using stainless steel bolts, or are stitched together to form a very light screen.
All of the screens can be made up as seen, a piece unique to each customer can be created using the designs described under the single penal section or individual designs could be negotiated. They are available in a number of colour combinations (see the colour chart), or again made up to your own specific requirements. All larger pieces are made to customer specifications.
Single panels – Small – £24 (Code SPS-), Large – £30 (Code LPS-)
Each panel is made up of two or three layers, size: Small; 14 cm by 20 cm: screen 20cm x 30cm. Large: 20cm by 28 cm: screen 28cm by 40 cm
Nine-panel perspex screens (9PS-) – from £100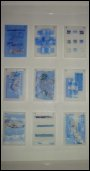 Multilayered Stitched screens (SS-) – from £100
Size: 60 cm by 90 cm Size: 100 cm by 120 cm
Would make an excellent alternative to a blind. This is made up in basic geometric designs as shown and can be made to any colour theme
Multi-panel perspex screens – from £60 – (PS-)
The panel screens can be made up of as many panels and sizes as you wish. The four-panel piece below works well as a wall hanging; equally a really large piece, stretching from ceiling to floor could be made. The perspex can be clear or sandblasted and translucent, it also comes in many different colours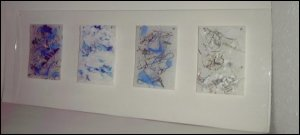 Free-standing giant screen – from £500 – (FSS-)
New project: This screen is made up of large panels stitched together to create a self-supporting screen. The screen can be easily manipulated into different shapes and can be folded away creating a square pillar. This is currently being developed, contact me for further details.
I am always willing to discuss new possibilities and commissions, so please contact me with any ideas that you have.